Streamline Your Approach to
Asset Management
Remicle EAM streamlined approach to real-time asset management will ensure your organisation has full and instant visibility of all your assets

Defining Your Business Asset Management Strategy
There are many advantages of implementing asset management into a business to better control operations with more efficiency. These can vary from identifying data trends to real-time asset tracking. An asset management system will take all asset data and information and store it in one centralised place. Here, businesses can see trends, analyse data and monitor all assets a lot more efficiently.
Remicle's enterprise asset management (EAM) module helps you to manage your business assets. This module allows you to manage your asset handovers, returns, disposals and location change.
Build a solid, standards-based foundation for managing your physical assets – whether your business relies on production equipment, power grids, machinery, vehicles, or facilities. Our enterprise asset management (EAM) software can help you increase operational efficiencies, improve asset usage, reduce costs, and better manage capital expenditures throughout the asset lifecycle.

Faster, more accurate asset reporting and analytics – for savvier decision making

Heightened visibility into asset performance, risk, and capital expenditures

Improved asset utilization with centralized monitoring and control

Superior asset performance, efficiency, and reliability with minimized disruption

Predict equipment failure and carry out preventative maintenance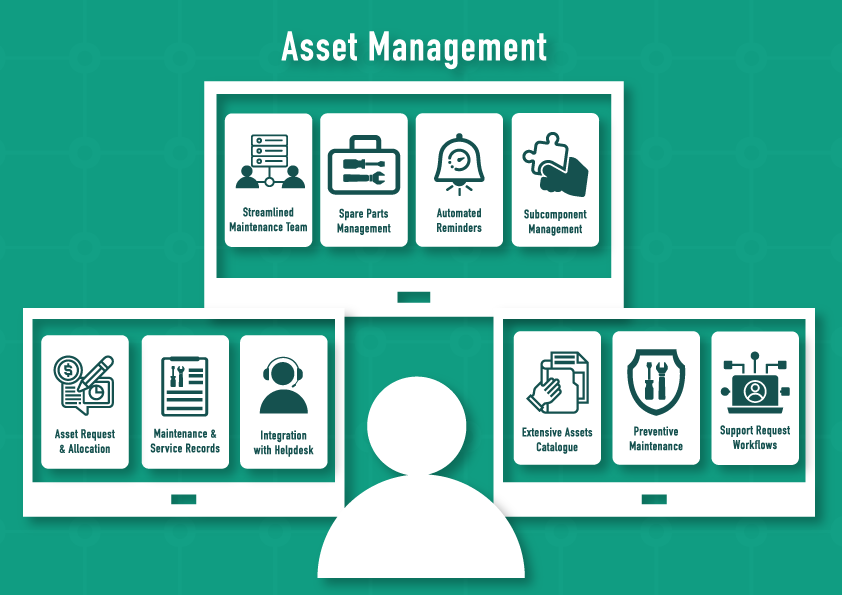 Remicle EAM Key Highlights


Remicle EAM consists of core asset management functionalities, which is further complemented by a selection of optional modules to ensure a better fit with organizational requirements. Remicle EAM's core components are detailed below:
Operational Views
Segregate and structure asset data to suit an organization's governance requirements, business rules, operational and financial structures. Operational views are flexible and can be arranged in parent-child hierarchies across multiple levels within the same database. An operational view may represent a geographical site, business unit, project, policy repository, or another organizational entity requiring its own configuration, data ownership and security.
Operational Assets
Define the complete asset record including asset details, specific attributes, usage meters, spares list, cost history and links to full word history.
Work Orders
Forecasting utilizes task frequency rules and work method templates to generate planned maintenance work orders for individual assets, or asset rounds. Unplanned maintenance is supported with internal work requests, defect recording and breakdown orders. The core system supports departmental or cost center budgets, work order cost estimating and actual cost recording.
Labor and Resource Management
Provides roster management, authorizations and qualifications management for internal and external customer sites. Labor resources, tools and equipment are allocated to maintenance activities within capacity and compliance constraints.
Inventory
Supports flexible stock take and reorder policies, replenishment planning, internal and external requisitions, issues, returns, stock takes, inter warehouse transfers and costed transactions for stock valuation and integration to external general accounting systems.
Barcode Scanner Integration
Speed up operations with our dedicated barcode scanner and touch screen user interface.
Assets Request
Enable a fully digital experience for your company to request assets with customizable workflows and approval process.
Integrated analytics
Zero in easily on critical assets & prioritize your maintenance activities.
Mobility Ready
Manage your assets anywhere, anytime and on any device in Real Time.
Streamline Your Company's Assets Today!
Reach out to us and arrange for a demo.