Revolutionize How You Manage Projects
Discover the power of a integrated Project Management Solution with an ERP
Project Management in today's Technology

What are the Key Milestones for a Successful Project Delivery?

Delivering project outputs on time

Delivering project within cost

Customer Satisfaction

Achieving project strategic objectives

Businesses, large and small, unquestionably juggle numerous projects, plans, tasks and people. Not long ago, project management software was symbolized by three things: a pencil, a sheet of paper, and a methodology.

However, time marches on and technology evolves. Essentially, project management software programs are employed for project planning, time management, resource allocation, and for change management. Project management software is among the most useful tools that can help companies in becoming as competitive as possible, and set you apart from the rest of the industry.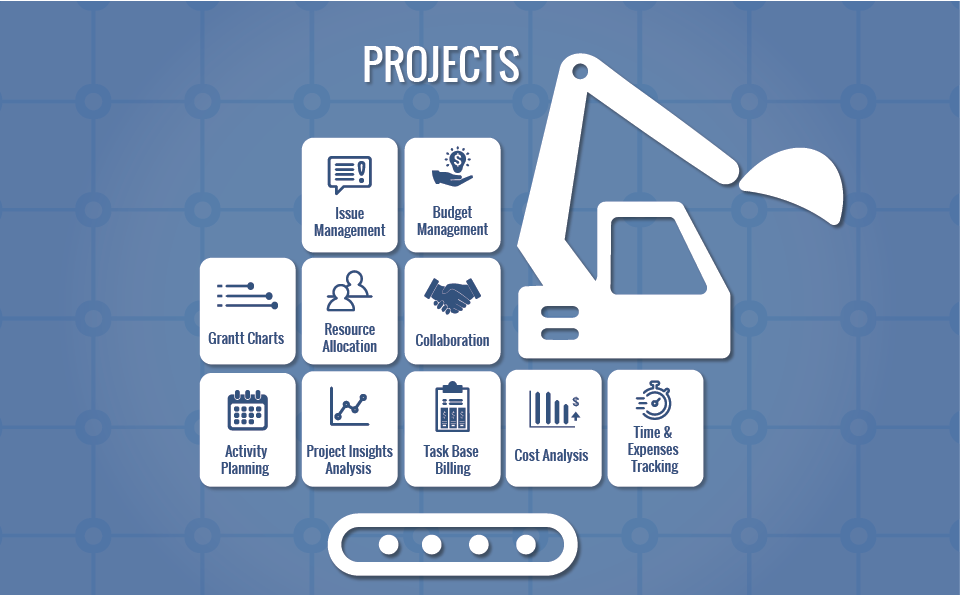 Remicle Project Management Key Highlights
Remicle Project Management consists of core Project Management functionalities, which is further complemented by a selection of optional modules to ensure a better fit with organizational requirements. Remicle Project Management's core components are detailed below:

Interactive Gantt Charts
See everything related to project at a single place. Easily view critical information in each step such as order of tasks, duration, start and end dates, task dependencies and progress made in them.
With our easy to use interactive Gantt Charts, you can also easily adjust timelines, add tasks and team members when needed.
Task Management
Team members see their tasks and to dos, complete and update task, or fill up their timesheets all from a single tool. They also get relevant notifications.
Collaboration is powerful with project discussions, task based comment sections, file sharing, document version control, and activity stream.
Single Source of Truth
With everything on cloud, view and manage your projects in real time with our real-time project tracker, resource availabilities and utilization, timesheets, project finances, risks, issues and to-dos.
Powerful Analytics
Remicle's built-in Business Intelligence tool allows our users to come up rich and interactive charts to breathe new life into your project data.
Businesses can build their best practice reports and dashboards to gather 360-degree real-time insights around project health, tracking actuals vs estimates, team utilization and profit margins. With our exhaustive custom field library including formula fields, you can easily track all of your financial KPIs such as NPV.
Highly Customizable
Remicle Project Management is extremely customizable and flexible when it comes to different organizations and industries.
This allows our clients to customize and build custom project management workflows that is unique and ideal for their individual business needs.
Integration back to Finance
Manage your project budgets easily by linking purchases and tagging them to individual projects, milestone claims, payment to contractors, expenses and many more.
Identify early on project budget overruns and react accordingly.
Revolutionize Your Projects Today!
Reach out to us and arrange for a demo.